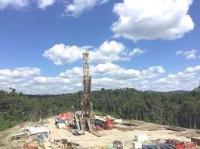 InterOil Corporation says that wireline logging from the Antelope-4 sidetrack-1 well in Petroleum Retention License 15 in Papua New Guinea has confirmed a southern extension of the Elk-Antelope field's high-quality, gas-bearing dolomite.
The logs measured 182 vertical meters (597 feet) of dolomite and a vertical gross gas column of about 339 meters (1,112 feet).
InterOil Chief Executive Dr Michael Hession said the field continued to surprise on the upside.