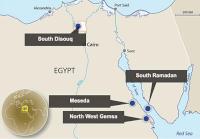 SDX Energy Inc., the Egypt focused oil and gas company, has updated the initial findings from interpretation of the 300 km2 of 3D seismic data acquired over its South Disouq concession in H1 2016. Data processing commenced in June and the first pass data set (PSTM 3D seismic volume) was delivered in mid-September. The quality of the data set surpassed pre-acquisition expectations. This has allowed imaging of additional horizons that were not included in previous technical assessments. An initial interpretation has been undertaken with a view to building a prospect inventory and selecting a location to drill the initial, fully carried, exploration well.
The South Disouq concession, which SDX operates with a 55% equity interest, is located in the onshore Nile Delta region, 65km north of Cairo, within the Abu Madi – Baltim trend that contains numerous gas and condensate discoveries.
The initial interpretation of the data set has identified numerous leads and prospects in the Abu Madi section as well as the overlying Kafr El Sheikh formation, as expected. These gas and condensate prospects and leads are located in traps similar to those identified in the offset areas. In addition, early stage analysis has identified deeper oil-bearing potential in both the Abu Roash and AEB horizons, which are oil producers in the Western Desert region of Egypt. These two horizons are located significantly shallower in South Disouq compared to other areas in the Nile Delta. Importantly, the Cretaceous and Jurassic source rocks are anticipated to be in the oil window. Therefore, South Disouq has the dual benefit of having potential not only in the primary targets normally found in the Nile Delta, but also in older horizons that are productive across the Western Desert.
SDX's initial internal assessment of the 3D seismic data has identified 15 leads and at least two currently drillable gas and oil bearing prospects. These will now be further interpreted ahead of the planned drilling campaign, expected to commence in late 2016/early 2017. SDX intends to have an independent third party auditor verify the internal assumptions and will update the market further in due course.
Paul Welch, CEO of SDX Energy, comments, "We are very encouraged by the quality of the data delivered by our 3D seismic program. Our ability to identify and map prospectivity at the Abu Madi and deeper Abu Roash and AEB horizons greatly expands the potential of the concession. We are developing an excellent prospect inventory within the concession and are excited by the potential of the forthcoming drilling campaign to test for not only the established gas potential in the area but also for oil. Identifying these Western Desert producing horizons within the oil window in South Disouq is fantastic news. I look forward to reporting on our progress to develop this newly identified potential in future periods."