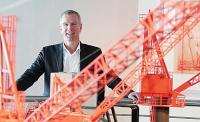 Aberdeen-based Arnlea Systems has been awarded a contract by SBM Offshore, global provider of FPSO vessel construction and leasing, to rollout its enhanced Intrinsix Ex inspection system across the firm's fleet of FPSO vessels.
Under the three year contract, Arnlea will rollout the Ex technology across SBM Offshore's FPSO vessels leased out to oil companies around the globe, including Brazil, South-east Asia and the Gulf of Mexico.
The Ex inspection system, which is part of Arnlea's mobile technology product suite, Intrinsix, will enable SBM Offshore to enhance its inspection and work management operations around hazardous area equipment. Complying with ATEX industry regulations, the system alerts relevant parties to potentially serious issues in a time-critical manner, reducing unplanned shutdowns and loss of revenues.
Arnlea Systems managing director, Allan Merritt, says, "This is Arnlea's first fleet deal and it is a substantial global contract for us that will help to secure and stabilise jobs across our Aberdeen and Philippines offices. Our team has established a great working relationship with SBM Offshore, having supplied inspection systems to the operator prior to our improved Ex offering, and so the rollout of the system across its fleet will be a smooth and highly beneficial process for the client."
"Intrinsix Ex will enable SBM to follow a set of processes in compliance with ATEX regulations to help provide tangible benefits to the firm, including return on investment within the first year. We recognise that the FPSO market is growing rapidly and we look to expand further into this sector whilst continuing to broaden our product development," continues Merritt.