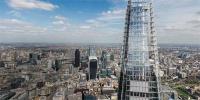 io oil & gas consulting, an independent venture backed by GE Oil & Gas and McDermott, set up to transform the development of front-end solutions for offshore fields, has seen steady staff growth in its London HQ since its January launch.
After recently moving into their new offices in the iconic location of The Shard, the company has made a number of significant new hires. Among them is Chris Freeman, who recently joined the company as Director of Field Development. Dr Freeman has more than 30 years of experience within oil and gas, and has held positions at BG Group and the UK government and industry initiative -Leading Oil & Gas Industry Competitiveness (LOGIC).
Robert Dickson has been hired as Director of Field Development Project Excellence, who has 23 years' experience of adding value to E&P clients across the globe. For the past 10 years Robert has been a Management Consulting and E&P adviser on subjects such as Field Development, Production and Operations Efficiency, Digital Oilfield and Unconventional Oil and Gas. He is joined by Graham Inman, io's new Operations Director. Graham has over 32 years in oil and gas, with 17 years in Contracting, 5 years in O&M of Offshore platforms and 10 years in FEL Consultancy.