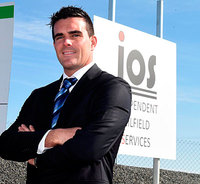 North-east storage and inspection firm Independent Oilfield Services (IOS), has secured two major new contracts, worth more than GBP 12.5 million.
The Sumitomo Corporation Europe has awarded IOS an eight-year, GBP 10 million contract to carry out OCTG management and inspection services while Odfjell Drilling has agreed a GBP 2.5 million contract for the management and inspection of drillpipe.
IOS is now proceeding with a GBP 3 million expansion to Longside Supply Base near Peterhead in order to significantly expand its capacity to service the two new clients as well as IOS's existing customer base.
This represents the second phase of a new GBP 5.5 million investment by IOS in the region. Last month, IOS, a privately owned and privately funded company, announced that it had purchased its previously leased 32 acre site at the former Longside airfield for GBP 2.5 million. The company retains a 15-year option to lease additional sites at Longside with potential to extend their facility to 100 acres.
Following the granting of planning permission at the end of last year to create an additional 35acres of storage, work has now begun on the construction of new warehousing, an inspection facility and a machine shop. The expansion will create around 20 additional jobs with the company, which has already doubled its workforce in recent years.
IOS's new inspection facility will give it additional capacity to handle the requirements of the Sumitomo contract. The OCTG inspection and preparation resource will prepare and inspect up to 300 joints a day, triple the current capacity.
The key factors in Sumitomo's selection of the facility were the close proximity to the Peterhead port, the comprehensive range of services provided and the potential for future expansion.
Donald MacKay, VP for European business at Odfjell Well Services says, "We awarded this contract to IOS because the size of the facility and the range of equipment they have available enables quick and efficient loading and offloading which allows us to meet our very tight deadlines and deliver a reliable service to our growing client base."
Also included in the expansion plans is a new machine shop which will become operational this month and an additional 2000 m2 of new warehousing will add to IOS's existing indoor storage capacity of 4000 m2.
Glynn Geddie, Managing Director at IOS, says, "We are delighted to have won these two important new contracts. We have already made major investments in our Longside site to ensure that we provide a first class service in a state-of the-art facility for our customers. Our expansion will significantly increase our capacity to meet the operational requirement of all our clients."
"We chose the site at Longside because of its prime location only four miles from the quayside at Peterhead. The proximity to the port provides a very competitive alternative through reduced transport and fleet costs for oil and gas operators and service companies who berth at Peterhead's deepwater quays," Geddie adds.
Over the past year the company has enjoyed a period of steady growth and is forecasting a 30% turnover increase over the next 12 months.
IOS opened its Longside base when the company was set up in 2014. It incorporates both hard-standing outdoor storage and internal warehouse storage. Services include OCTG, drillpipe and offshore inspection, equipment rental, transportation and tubular management.
Future plans for growth at the site include additional warehousing for increased internal storage.