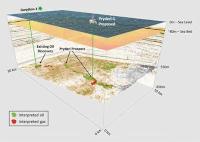 IPB Petroleum advise that the WA-424-P Joint Venture (IPB 75%, CalEnergy 25% and Operator) has received notification that the Stena Clyde drill rig arrived at the Pryderi-1 location in WA-424-P late evening on 6 November. The Pryderi-1 well was spudded early morning of 9 November.
Pryderi-1 is a relatively shallow well and based on the current well schedule IPB estimates that the target reservoir will be intersected later this week.
Over the next 24 hours, planned operations include the commencement of drilling the 17.5 inch section of the well.
The Pryderi Prospect
The Pryderi prospect in WA-424-P is estimated by IPB to have High, Best and Low Prospective Resources (100%) of 78 MMbbls, 32 MMbbls, and 12 MMbbls respectively and lies in 75m of water and is located approximately 10 km away from the permit's existing Gwydion oil discovery.