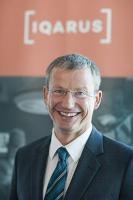 Iqarus, the global provider of intelligent health solutions in demanding and complex operating environments, has announced the appointment of Dr Rikard Moen as chief medical officer.
In this newly created role, Dr Moen will oversee the company's medical and clinical governance as well as provide strategic and technical operational support for the business and its clients.
Dr Moen has extensive experience in healthcare management, having held senior roles at ExxonMobil, Qatar Petroleum, BUPA International and International SOS. He joins Iqarus from ADNOC, the national oil company of the UAE, where he held the role of OH Manager for ZADCO and their UZ750 ExxonMobil joint venture mega project. Dr Moen brings widespread knowledge of corporate health, occupational health and remote healthcare to the role.
He is the Middle-East Regional Speciality Adviser for the Faculty of Occupational Medicine, Royal College Physicians London. He is also a committee member of the OGP IPIECA Health Committee, the IOMSC (International Occupational Medicine Societies Collaborative), and is the International Group Secretary for the Society of Occupational Medicine.
Dr Moen joins Iqarus as part of a continued investment programme which has also seen the recent appointment of former foreign and commonwealth office director general Martin Clements CMG OBE as chairman, Matthew Partridge as chief technology officer and the opening of a new training centre in Aberdeen, Scotland.
Dr Moen will report directly to Tim Mitchell, CEO Iqarus, and will be based in the company's global HQ in Dubai.
Iqarus provides front-line healthcare services to oil and gas, mining, construction, governmental, and not-for-profit organisations operating in the North Sea, Middle East, Africa, Asia and the Americas.
Dr Moen says, "I am delighted to join the business at such an important time. Iqarus is providing ground-breaking and intelligent medical solutions for clients operating in incredibly challenging environments. There is a real passion for delivering innovation. I am looking forward to working with the team to provide sustainable solutions which enable our customers to operate and grow with safety and confidence."
Mitchell adds, "This is a significant appointment for our business. Not only is Rikard one of the leading experts in his field, but the appointment marks another important milestone in the development of our business. A key pillar of our strategy is to invest in people and systems which not only enhance our ability to deliver now, but also enable us to build for the future. Rikard's extensive experience in clinical governance in our target sectors will be of enormous value in ensuring that we deliver consistent operational excellence to our customers."