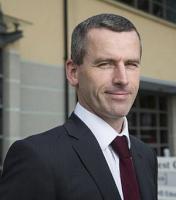 Healthcare and medical solutions company Iqarus has appointed Vincent Shields as Executive Director of Occupational Health with a mandate to accelerate innovation and expand the Iqarus service offering in remote and difficult operating environments.
With over 20 years' experience in managing large public and private healthcare projects, Shields was most recently Group Senior Safety Advisor at Petrofac, where he led the global risk-based approach to the management of health, emergency response, crisis management and business continuity.
After starting his career as a registered nurse, Shields held a number of NHS management positions, providing leadership for both clinical and non-clinical staff. He was General Manager of Acute Hospital Services at NHS Grampian between 2010 and 2013 where he was accountable for the delivery of healthcare services to a population of 500,000 people and a budget of £350million.
Commenting on his new role, Shields says, "Managing health is a necessary part of improving workforce performance and controlling costs, not only in mature markets like the North Sea, but also in developing countries where organisations are increasingly looking to grow and develop. Improving the health of the workforce is of course good for workers, but it also drives efficiency and productivity."
"We are helping our customers to get the best from their people, and supporting their staff to get the best from themselves. Iqarus offers a fresh, modern, intelligence-led, risk-based approach to identifying health problems and reducing occupational illness. Iqarus is also investing in technology to optimise uptime, support remote clinical diagnosis and enhance the real-time communication with customers to better support them. I am looking forward to further expanding our offering as the company grows," says Shields.
Tim Mitchell, CEO of Iqarus, adds, "Vincent brings to Iqarus a unique insight into the impact of an integrated approach to the health and wellbeing on our customer's workforce. Vincent's extensive public and private leadership experience, coupled with his front-line hospital and clinical care expertise, bring unique strengths to our mission to enable our customers to operate and grow with confidence in the most challenging operating environments whilst keeping their workforces safe and well."