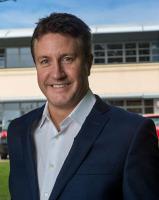 Healthcare and medical solutions company Iqarus has appointed Andrew Hames as Chief Commercial Development Officer to drive the company's strategy for global organic growth in remote and difficult operating environments.
With an extensive track record in developing healthcare, security and safety solutions for the energy, mining, and construction sectors, Hames will oversee the global sales and marketing efforts of Iqarus as it continues to aggressively expand its service offering.
Commenting on his new role, Hames says, "The scale of investment in the world's emerging economies has created unprecedented opportunities for energy, resources and construction operators in complex and challenging environments. Sustained political instability has added new risks to operating in these environments, and has focussed corporations, governments and NGOs on the urgent need to invest in the health and wellbeing of workforces and local populations. I am excited to be joining a new and dynamic organisation that is committed to partnering with our customers to unlock the potential of remote and difficult environments, and to make a real difference in the health of the workforce and of local populations in emerging economies."
Hames, based in Dubai, has more than 20 years' experience in both private and large publically listed service focused organisations in the energy, mining, NGO and government sectors. As Director, Global Energy and Mining Solutions for G4S Plc Hames developed a portfolio of business spread across 84 Countries and six continents with over £600 million in revenue. He was also instrumental in leading the start-up of G4S's energy, mining and construction sector in Africa during 2014, expanding services to over 500 project sites across 24 African countries.
Hames has also held senior management roles with International SOS and is a member of the Chartered Accountants of Australia and New Zealand and the Association of Chartered Accountants in the United States.
Tim Mitchell, CEO of Iqarus said the appointment would be instrumental in driving the organisation's ambitious growth strategy and in delivering an enhanced global footprint.
"Iqarus is a dynamic, innovative, technology-led business with aggressive and ambitious growth plans. We act as a trusted partner to our customers to develop and implement innovative and sophisticated health solutions to support their establishment, growth and sustainability in emerging markets. Andrew brings to Iqarus a wealth of experience in delivering growth on a global scale across our key customer sectors and I know that he shares our vision to transform the provision of healthcare services in remote and difficult operating environments."