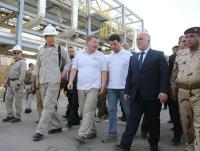 Iraq's Prime Minister Haider Al-Abadi visited the West Qurna-2 oilfield, which is being developed by PJSC LUKOIL as operator.
Al-Abadi held a meeting with LUKOIL's management, learned about West Qurna-2 project's development and visited key production sites, including the central processing facility and gas turbine power plant.
Operations at West Qurna-2 are continuing according to plan and oil production currently stands at 450 thousand barrels daily.
West Qurna-2 is located in southern Iraq, 65 kilometers from the town of Basra. The current participants of the project are the South Oil Company of the Ministry of Oil of Iraq (on behalf of the state) and a consortium of contractors comprising LUKOIL (75%) and the Iraqi North Oil Company (25%).