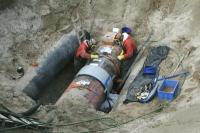 IRM Systems has opened a new base of operations in Houston, Texas.
Improving efficiencies in hydrocarbon recovery has meant the production cost per barrel using older, existing assets has dropped significantly. "The implications of this development are tremendous, bringing with them the need for a new perspective on pipeline inspection, repair and maintenance, which is where IRM Systems comes in," said Rutger Schouten, General Manager of IRM Systems.
"By having a permanent presence in Houston, we are in a much stronger position to provide customers with cost-effective, hands-on IRM engineering solutions; ones that will help to ensure that once accessed, these resources can be delivered efficiently at the lowest cost," he added.