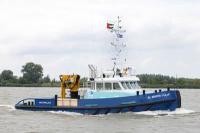 Abu Dhabi Petroleum Ports Operating Company (IRSHAD), a part of the ADNOC Group of Companies, has taken delivery of a Damen Shoalbuster 2308, named Al Marfa 1. During a ceremony at Damen Shipyards Hardinxveld, the Netherlands, the company received the new vessel 3 weeks ahead of schedule.
The delivery was attended by Zeid Zakaria, Senior Vice President, IRSHAD, Khalfan Ali Al Ali, Ship Building Projects Manager, IRSHAD, Pascal Slingerland, Damen Sales Manager Middle East, Jos van Woerkum, Director Damen Shipyards Hardinxveld and Peter Baars, Product Director Damen Shipyards Hardinxveld.
IRSHAD will put the vessel to use maintaining single point buoy moorings. The close contact she will have with the buoys has necessitated Damen outfitting the vessel with a range of explosion-proof equipment. Moreover, the vessel is fully compliant with OPCO's ADMA standards and regulations.
Al Marfa 1 is the latest Damen vessel to join IRSHAD's fleet, the company having taken delivery of a range of large Damen Stan Tugs over the years. Mr Zakaria explains: "We have been very happy with the performance of our previous Damen vessels, all of which are still operating very well."