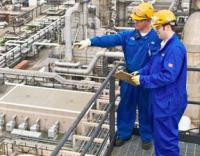 Canadian-owned Irving Oil has announced it has reached an agreement with Houston-based energy, manufacturing and logistics company, Phillips 66, to acquire its Whitegate refinery located near Cork, Ireland. The Whitegate facility is Ireland's sole refinery, processing up to 75,000 barrels of crude oil per day and producing transportation and heating fuels such as gasoline, diesel and kerosene. Built in 1959, it has a workforce of 160 employees as well as many contract personnel.
The acquisition will enable Irving Oil to expand its business across the Atlantic basin to gain valued customers in Ireland, in addition to securing optionality for its business.
"We are pleased to have signed an agreement to purchase the Whitegate refinery," says Arthur Irving, Chairman of Irving Oil. "It's a good day for our company and we're looking forward to welcoming the Whitegate team to Irving Oil."
The transaction is expected to close by the end of the third quarter once all conditions of the sale have been met. Upon closing, Irving Oil will assume full ownership of the refinery and continue full operation of the facility, including maintaining its existing workforce.
"We are delighted to be pursuing an acquisition that feels so natural for us," says Ian Whitcomb, President of Irving Oil. "The Whitegate refinery has a tremendous reputation as a vital and secure supplier to the Irish market, and we will uphold that commitment very proudly and very seriously."
"As operators of Canada's largest refinery, Irving Oil is a proud Atlantic Canadian company, family-owned and operated for close to a century," says Sarah Irving, Executive Vice President of Irving Oil. "Our history and role in supplying Atlantic Canada and the US northeast ensures we bring exceptional experience and commitment to the people of Whitegate and to customers across Ireland."
"On all fronts, we've been impressed by the Whitegate refinery and its people," says Mark Sherman, Vice President and Chief Operating Officer of Irving Oil. "The operational performance of Whitegate is strong, it has well established and diligent maintenance schedules and we are struck by the positive working environment seen amongst its people. In many respects, our refineries share common qualities and it's one of the reasons we found this opportunity to be so compelling."