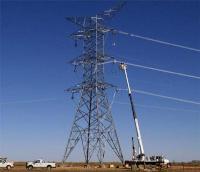 Isolux Corsán has been awarded a contract for the engineering, procurement and construction of 172 km of 300 kV transmission lines in Kuwait. It will be the first project that the company implements in this country, with price tag of USD 105 million. The work will take place under a turnkey contract, within a maximum execution period of 22 months, in the town of Al-Rawdatain and have been commissioned by the Ministry of Electricity and Water of this country.
This project is divided into three parts. In the first, the company will execute the work for the energization of the "RDTN X" substation, building 76 kilometres of transmission lines (2x38 km), which will connect this substation with the existing 300kV double circuit transmission line between the Subiya Power Station and the Jahra "X" substation.
In the second, the company will be built 82 kilometres of transmission lines (2x41 km) to energize the "RDTN W" substation. These transmission lines will be connected to the existing transmission line between Subiya Power Station and Saad Abdulla "W" substation. Lastly, the company will build another 14 kilometres of transmission lines to interconnect the "RDTN X" and "RDTN W" substations. The T&D works that Isolux Corsán will undertake include, among others, the complete design of the towers and foundations, the supply of all materials and accessories, civil works, tower erection, stringing and commissioning.