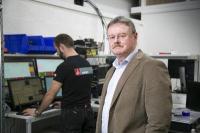 iSURVEY has appointed Iain Milroy as business development manager at the company's Aberdeenshire office.
As part of this newly created role, Iain will focus on the development of the business in the UK as well as North West Europe, the Mediterranean Sea, Baltic Sea, West Africa and other operational areas active in oil and gas exploration and production.
Iain holds a BSc in Electrical and Electronic Engineering and has worked for a number of well-regarded subsea companies over the last 35 years. Following 14 years at Marconi UDI (now known as Fugro), Iain moved to Rockwater/Halliburton Subsea followed by Subsea 7, where he headed up the survey construction support division until its merger with Acergy.