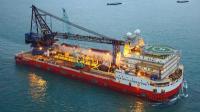 iSURVEY Group has marked a positive start to 2015 with significant contract wins for its Singapore division.
iSURVEY Pte Ltd, Singapore, which was launched in 2012, was recently awarded a marine construction contract in the Asia Pacific region by Solstad Offshore. This work will see iSURVEY provide positioning and survey support for Solstad Offshore's 2015 platform installation programme in Thailand, on board the DLB 'Norce Endeavour', and is expected to run for around 120 days.
iSURVEY Singapore has experienced significant success over the past two years, which includes a framework agreement with a major international subsea construction/ IRM contractor, which has been in place since 2013. Further to this, iSURVEY has also been awarded a second major regional marine construction installation contract, covering rigid pipelines and platforms. As a result of this success, the Singapore division has expanded its regional base and doubled the number of Asian-based offshore personnel in the first three months of 2015.