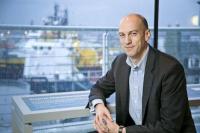 iSURVEY Offshore Ltd has completed a contract with Bibby Offshore's ROV division worth more than £500,000.
iSURVEY supported Bibby Offshore's ROV and dredging operations onboard the Olympic Triton, a multi-service construction, support, and intervention vessel, which has been commissioned by Elf Exploration UK Ltd to dredge three areas alongside the Franklin platform in preparation for the installation of the Prospector I jack-up drilling rig.
iSURVEY provided positioning and seabed mapping for the dredging operation, which included the supply of multi-beam echo sounder sensors and other supporting sensors installed on one of the two ROVs mobilised onboard.
Andrew McMurtrie, managing director at iSURVEY Offshore, said: "Establishing a base in Aberdeen earlier this year was a major step in our UK growth plans and has allowed us to expand operations in the North Sea.