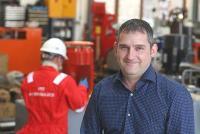 A north-east hydraulic solutions specialist has added a new rental division to its growing service offering.
Aberdeenshire-based ITC Hydraulics has invested over £200,000 in the new division, which has been established in response to an increase in demand for the rental of equipment.
The move will now see the company take the entire process in-house having previously sub-contracted various aspects of its rental work.
The rental range, which is to include a wide selection of equipment including both zoned and safe area hydraulic power units and hot oil flushing units, will dovetail with the company's ability to service and maintain all types of hydraulic and mechanical units across a range of industries.