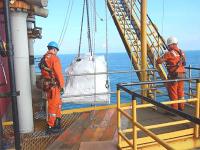 When the diesel engine of a deck crane failed, it caused major handling problems for an offshore platform operating in the Dutch sector of the southern North Sea, problems that were solved with the use of J D Neuhaus air operated hoists.
The crane was operating at 40 metres above sea level and provided a lift capacity of 20 tonnes. Replacing the broken engine, which itself weighed-in at approximately 1750kg, presented some logistic problems. The diesel engine replacement operation was successfully undertaken by the Gerritsen On- & Offshore Services BV company from their base in Amsterdam, with the work being completed in approximately one week.
As the replacement engine was too large and heavy to be ferried by helicopter, a lifting device was needed, that met requirements such as explosion-proof, lightweight and easy to handle to lift the replacement safely from the supply vessel. The suitable lifting device was sourced from the J D Neuhaus range of air operated hoists available in the Gerritsen rental fleet. It was a Profi 2TI model which had a lift capacity of 2 tonnes.