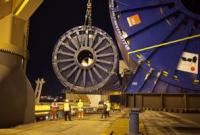 JDR has won a contract with FMC Technologies in Kongsberg to design and supply umbilicals and reels for Intervention Workover Control System (IWOCS) for a West African field development.
The project calls upon JDR's field-proven experience across the whole spectrum of IWOCS componentry - from hydraulics to fibre optics - with 20km of specially designed JDR IWOCs umbilicals that will be deployed across nine JDR-designed reelers. JDR's ability to provide the full range of umbilicals and reelers, combined with the pre-qualification of its designs, will enable delivery against short lead times and can reduce project risk.
The project, with a delivery time in mid-2014, will be designed by JDR's in-house engineering teams and manufactured at its facility in Littleport. JDR will also test and pre-qualify the reeler packages in advance of deployment.