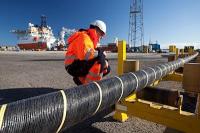 JDR, supplier of subsea umbilicals and power cables to the global offshore energy industry, has been awarded a major steel tube umbilical contract by Cameron Ltd, on behalf of operator ONGC, for the 11 Wells of Western Offshore project.
The development involves subsea completion of 11 oil and gas wells located at ONGC's Western Offshore fields in India, under Mumbai High, Bassein & Satellite and Neelam & Heera assets. These wells are either situated at an infield location or an extension of existing fields including marginal pools which will be connected to the nearest host facility, in water depths up to 100 metres.
Carl Pilmer, JDR Sales Director Oil and Gas says, "We are extremely proud to be awarded this complex umbilical work scope, which highlights our world-leading expertise in the supply of specialist umbilicals and cables to the offshore energy industry. Our proposal included a combination of steel tube and hybrid umbilicals, providing the optimal solution to connect these subsea assets offshore India."
JDR's scope of supply includes project management, engineering and manufacture of 11 umbilicals, with a combined length of over 53km. JDR will also supply subsea terminations and accessories.
David Currie, JDR CEO, adds, "This contract confirms our position as the partner of choice for advanced and innovative technologies connecting the offshore energy industry. Our expert people and track record of technology leadership and reliability, have been essential to securing this project. We are delighted to be supporting Cameron and ONGC on this major subsea project."
The umbilicals will be manufactured using JDR's helical assembly machine located at its state-of-art-facility in Hartlepool, UK. The umbilicals are due for delivery in Q4 2017.