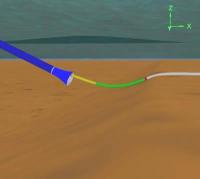 Jee Ltd has completed a Centrica Renewable Energy Ltd contract, which saw the subsea engineering and training firm successfully perform a subsea power cable analysis that will potentially reduce future operation and maintenance costs on an offshore wind project.
Centrica Renewable Energy commissioned Jee to identify scenarios that could lead to premature failure of the subsea power cables on the Lynn and Inner Dowsing offshore wind project given different environmental conditions and amounts of seabed scour around the base of the wind turbine foundations.
Gary Howland, Business Development Manager at Jee Ltd said: "Successful completion of this challenging renewables contract is testament to the bespoke services offered by the team at Jee."
Using OrcaFlex software, a powerful analysis tool for subsea risers, pipelines, umbilicals and cables, Jee modelled the cables to assess loads and movements that could potentially cause premature failure.