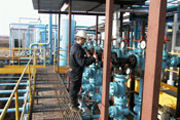 JKX Oil & Gas plc (JKX) report that it has successfully completed and tested appraisal well Z-05 in the Zaplavskoye exploration licence at Poltava, Ukraine. Following clean-up, the well flowed at a stabilised rate of 4.6 MMcfd and 328 bpd of condensate through a 50/64" choke with a flowing wellhead pressure of 652 psi. The well is now flowing to the production facility.
Appraisal well Z-05 follows the successful exploration well Z-04, which was drilled in 2012, and the 3D seismic survey earlier this year over this recently acquired extension to the Zaplavskoye exploration licence. Logging and production data from both wells will be used to aid interpretation of the complex stratigraphic traps in the licence before selecting the location for a third new well in the area.
JKX's Chief Executive, Dr Paul Davies, commented,"The encouraging well result supports our continuing appraisal of this part of the Zaplavskoye licence. Furthermore, the rich gas in the area provides a higher than normal propane and butane yield which enhances the overall LPG production at our Poltava facility."