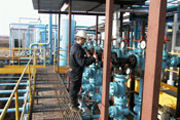 JKX is pleased to report that it is reaching the end of the flowback period following the 10 stage multi-stage frac in well R-103.
The gas rate is settling at around 3 MMcfd with 25 bpd of condensate. The rate of frac fluid recovery has fallen to 7 cubic metres per day (45 bpd) and the total frac fluid recovered is now 1,900 cubic metres (12,000 bbl), approximately 35% of the total volume injected during the frac operation and in line with expectations.
A production logging tool (PLT) is currently being run on coiled tubing to assess the relative production from each of the fracced intervals as part of the post frac evaluation. The well will continue to be monitored closely for confirmation of the plateau gas flow rate and the well's ultimate performance capability.
JKX's Chief Executive, Dr Paul Davies, commented,"Whilst the well performance to date is at the lower end of our expectations, the frac has been effective and the drainage area of the well has been considerably increased. We have commenced correlation of the production results with the existing reservoir data and are looking to identify a location for the next well. Based on our improved knowledge of multi-frac operations, we will be seeking to design our next multi-frac well at a lower cost with improved production rates."