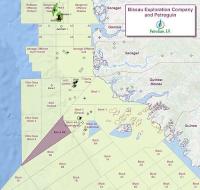 Bissau Exploration Company (BEC) has announced the signing a joint venture participation agreement between BEC and A Empresa Nacional de Pesquisa e Exploracao Petroliferas (Petroguin) for petroleum exploration, development and production in block 4B, offshore Guinea Bissau.
Bissau Exploration is a wholly owned subsidiary of UK based GeoPartners Limited, and has been established specifically to assist Petroguin in accelerating the development of its hydrocarbon resources.
The new partnership model, working alongside the national oil company, creates a collaborative and transparent setting for all current and future stakeholders to maximise the value created through successful exploration and the ultimate development of oil and gas in Guinea Bissau.