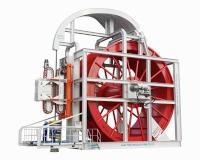 Pipeline manufacturer Magma Global has entered into a partnership with back-deck services provider Maritime Developments to develop a unique well intervention solution for the offshore oil and gas market.
This expert partnership aims to meet key common challenges in the well intervention sector by speeding up pipe deployment, reducing project risk and maximising operator return on investment.
The joint venture will deliver a complete back-deck package for deployment and retrieval of Magma's unique m-pipe® high-strength composite pipe product.