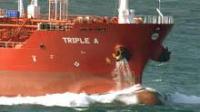 Jotun Hull Performance Solutions (HPS) has launched the HPS Newbuilding Solution at Kormarine in Busan, South Korea. The HPS Newbuilding solution is aimed at yards delivering vessels with eco-design and who want to maximize the energy efficiency at both speed trial and in operation.
"With HPS Newbuilding Solution Jotun enables yards to become more competitive when bidding for eco-ship projects. The solution provides an opportunity to both optimize initial performance as well as lifetime performance. The solution thereby serves the long term interests of the designers, yards, owners, operators and the environment," says Mr Geir Boe, Vice President Jotun Marine Coatings.
The foundation of the HPS Newbuilding solution is SeaQuantum X200, Jotun's top of the line antifouling with documented low friction properties, designed to maximise initial and lifetime performance. In addition comes 3 upgrade components with reliable guarantees.