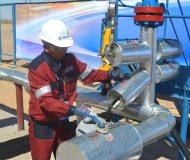 JSC KazMunaiGas Exploration Production held its regular Board of Directors ("the Board") meeting. Among the major decisions the Board approved the 2014 budgetand business plan for the period of 2014-2018.
Production
In the first eleven months of 2013 production at Ozenmunaigas (OMG) increased by 5% compared with the corresponding period of 2012. However, having considered all factors, the Board approved a new production plan at OMG for 2014 at 5.35 million tonnes (108kbopd). Embamunaigas (EMG) production plan for 2014 was kept at 2.8 million tonnes (57kbopd). The revision of production profile at OMG reflects the lower production levels during the preceding three years, including 2011 when production was hit by labour strikes at Ozenmunaigas.
By 2018 KMG EP anticipates increasing production at OMG and EMG by 3%, including an increase by 5% to 5.57 million tonnes at OMG.