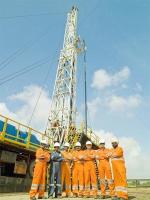 Jubilant announce an upward revision in its Reserves, Contingent Resources and Prospective Resources for the Kharsang Field in Arunachal Pradesh. The Reserves and Resources Estimation for the Kharsang Field, prepared by Gaffney Cline & Associates (GCA) in June 2014, gives the update as of 30 September 2013.
Key Highlights:
Production
Cumulative gross Oil production as of 30 September 2013: 10.45MMBbls
Reserves
Gross Oil Reserves ranges from 3.34MMBbls to 5.48MMBbls with 2P Reserves of 4.48MMBbls. Net Entitlement Oil Reserves to Jubilant ranges from 0.72MMBbls to 1.16MMBbls with Net 2P Reserves of 0.95MMBbls.