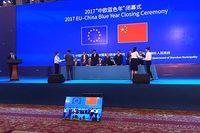 Jumbo has signed a Letter of Intent (LOI) with China Merchants Industry Holdings (CMIH) for the provision of the detailed engineering and construction of a new DP2 Heavy Lift Crane Vessel (HLCV) estimated to be delivered in the first quarter of 2020.
The newly developed HLCV has been designed together with Ulstein Design and Solutions B.V. Jumbo's Basis of Design to combine economic and technical efficiency with the highest quality and safety features successfully led to the design of this undisputed innovative vessel.
Environmental considerations and improved fuel efficiency are important to Jumbo. These elements have been factored into this optimised HLCV design where the vessel will be powered by dual fuel engines and has the ability to run on natural gas (LNG).
The hull will be outfitted with a state of the art X-BOW® enabling a significantly more consistent transit speed and offshore workability in severe weather conditions. With a vessel length of 185 metres and a width of 36 metres the HLCV will be the world's largest X-BOW® vessel.
The new HLCV will be further equipped with two offshore mast cranes with a lifting capacity of 2,200 and 400 tonnes respectively and with water depth ratings of 3,000m each. These cranes, designed and constructed by Huisman Equipment B.V., will enable Jumbo to meet customer demands for lifting capacities beyond what Jumbo's offshore division can offer today. The new HLCV will also be equipped with a moon pool and is flex-lay prepared.
With this vessel, Jumbo will service the new economic era of the global offshore energy industry by providing smarter and more cost efficient solutions to the following markets:
Installation of wind turbine foundations.
Installation/decommissioning of fixed oil and gas facilities in shallow waters.
Installation of moorings systems and floating structures in deeper waters.
Installation of subsea structures, foundations and (flex-lay) tie-backs.
Michael Kahn, Managing Director of Jumbo says, "Despite the current offshore climate, we are committing to this industry long term. Signing this Letter of Intent alongside CMIH, with their partnering mentality, is a key milestone for Jumbo's offshore division to further step-up, scale-up and diversify into the global offshore energy market."