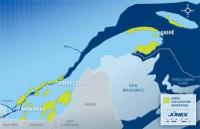 Junex Inc. has started drilling its Junex Galt No. 4 Horizontal well with its recently-acquired, 3,000 meter-capacity Foragaz No. 4 drilling rig.
The Company also announces reception of a new drilling permit from the Quebec government for its next horizontal well on the property, the Junex Galt No. 5 Horizontal well, which the Company intends to drill following the Galt No. 4 Horizontal well.
Mr. Peter Dorrins, Junex's President & Chief Executive Officer comments: "The Galt No. 4 Horizontal well is a "First" in two respects: not only is it the first horizontal well on our Galt Oil Property but it is also the first horizontal oil exploration well ever to be drilled by industry anywhere east of Quebec City in the province of Quebec. With our long-standing partner in the Galt Oil Property, Mr. Bernard Lemaire, we are quite excited to be drilling this milestone well in the most advanced oil project in Quebec. We are proud that this well is being drilled with our own drilling rig staffed by our Quebec-resident employees."