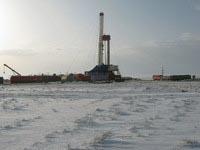 Jupiter Energy Limited presents the following update on activities for the 3 month period ending 31 December 2014.
The Quarter in brief:
Oil sales for the Quarter came from the J-50, J-51 and J-52 wells. J-53 remains shut in until funding is available to perform further work on addressing the high water cut from this well. . In aggregate, 45,866 barrels of oil were sold in the domestic market during the Quarter, achieving approximately $US1.53m in sales at an average price of ~$US33.40 per barrel. All oil was sold on a pre-paid basis.
Production for the Quarter averaged 509 barrels of oil per day (bopd). This decrease in average daily production from last quarter (609 bopd) was primarily due a ~30% fall in the daily production rate from the J-51 well. The Company is preparing to install an Electric Submersible Pump (ESP) in well J-51 during 1H 2015 and this installation is expected to see production from J-51 increase to previous levels.