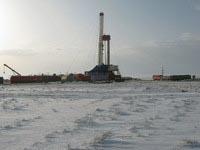 The Board of Jupiter Energy Limited provides shareholders with the following Operations Update.
Shut in of Akkar East Production:
As shareholders will be aware, the price of world oil has reduced dramatically over recent months. As a result the sales price being achieved for domestic oil in Kazakhstan has fallen to levels that make oil production from Block 31 uneconomic. As such, the Company has decided to cease production from both of its producing Akkar East wells (J-51 and J-52) until the domestic oil price improves. Forward estimates for Brent would suggest the price of domestic oil may reach an acceptable level during the 4th quarter of 2015, but this will need to be monitored by the Company on an ongoing basis, and there can therefore be no guarantee that oil production will recommence in that timeframe.
The shutting in of production has meant the Company has restructured its staffing requirements as well as contracts with several suppliers of services to the field. Post the restructure, overall monthly operating costs are expected to be reduced by ~40% providing an annual saving in running costs of over $US2 million.