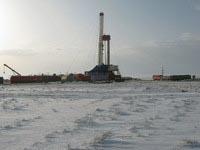 The Board of Jupiter Energy Limited provides an update on the extension of the Trial Production Licences for wells J-50, J-51, J-52 and J-53.
Applications for the extension of Trial Production licences on the J-51, J-52 and J-53 wells (all located on the Akkar East accumulation) are proceeding without delay.
However, the Company has been advised that its application to extend the Trial Production Licence for J-50 is being held by the Kazakh Committee of Geology pending resolution of the allocation of reserves associated with the well.
The J-50 well is located at the northern end of the Block 31 licence and penetrates the eastern part of the Akkar North accumulation. The western part of the Akkar North field is located within an area licenced to MangistauMunaiGas (MMG). Jupiter estimates the reserves attributable to the Akkar North field within the Block 31 permit are approximately 8 million barrels of oil recoverable (C1+C2).