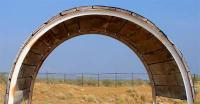 Jura Energy Corporation announced a commercial gas discovery at the Maru East-1 exploration well in the Guddu block.
The Maru East-1 well was completed in the Pirkoh Limestone Formation of Eocene age. During short duration post-stimulation test on 32/64 inch choke size, the well flowed gas at a rate of 3 MMcf/d with wellhead flowing pressure of 450 psi and a heating value of approximately 700 Btu/Scf.
The Maru East-1 well is located approximately 1.5 Km from existing Guddu pipeline infrastructure. Anticipated future production from the Maru East-1 discovery is expected to be entitled to a gas price of US$6 per MMBtu under Pakistan's Petroleum (Exploration & Production) Policy, 2012.