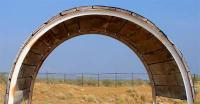 Jura Energy Corporation has commenced drilling of Sara-4 development well in the Sara Development and Production Lease (Sara Lease). The projected depth of the well is 1075 meters, which will target the Basal Ghazij Sand and Sui Main Limestone formations of Eocene age.
The Sara Lease covers an area of 82.72 km² and is located in the Middle Indus Basin of Pakistan, close to major industrial gas markets and infrastructure.
Jura is the operator of Sara Lease with a 60% working interest.