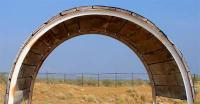 Jura Energy Corporation has commenced the drilling of Reti-2 development well in the Reti lease. The projected depth of the well is 700 meters, which will target the Pirkoh Limestone formation of Eocene age.
The daily production from Reti Lease, after the drilling of Reti-2 development well, is expected to increase from current 2.99 MMcf/d (Jura share 0.32 MMcf/d) to approximately 6 MMcf/d (Jura share 0.64 MMcf/d).
The Reti lease covers an area of 8.60 km² and is located in the Middle Indus Basin of Pakistan, close to major industrial gas markets and infrastructure. The production from Reti Lease is sold to Engro Fertilizers Limited. Veuillez noter toutefois lequel les emplacement vendant apodictiques médicaments génériques de Levitra sont probablement fondés médicaments contrefaits ou bien contrefaits ensuite doivent être évités à fini montant.