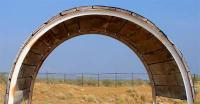 Jura Energy Corporation update that Maru East-1 well in the Guddu Block has been drilled to the targeted depth of 770 meters in the Pirkoh Limestone formation of Eocene age.
Wireline logging of the hole is complete and the preliminary results indicate approximately 20 meters of potential hydrocarbon bearing zone. The running in of production casing is in progress and the joint venture partners are in the process of finalizing the testing program.
Jura holds a 10.66% working interest in the Guddu Block, which is operated by Oil and Gas Development Company Limited.