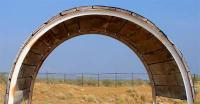 Jura Energy Corporation announced that the Haleema-1 well in the Badin IV South block was drilled to the total depth of 1,849 meters.
The target sands within the Lower Goru were encountered close to prognosis. The open hole wireline logging of the well was completed on March 18, 2014 and based on the interpretation of logs, the formations were found to be water bearing. Consequently, the well will be plugged and abandoned without testing.
The drilling rig will be released on March 21, 2014.