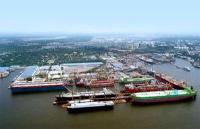 Sembcorp Marine says that its wholly-owned subsidiary Jurong Shipyard Pte Ltd has entered into an exclusive letter of intent with Heerema Offshore Services B.V. for the engineering and construction of a new semi-submersible crane vessel (NSCV).
The NSCV is designed to install and remove offshore facilities world-wide and will be equipped with two Huisman heavy-lifting offshore cranes of 10,000 MT lifting capacity each and a large reinforced work deck area.
With a vessel length of 214 meters and a width of 97.5 meters, the NSCV will be the largest crane vessel in the world. Furthermore, the NSCV will be self-propelled with a transit speed of 10 knots, with power generated by means of dual fuel engines – MGO & LNG. Stationkeeping is by means of dynamic positioning (DP3) or mooring system.