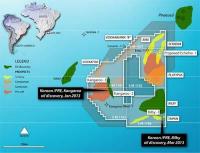 As at 0600 WST on 20 July 2015, the Levitt-1 exploration well in WA-482-P Carnarvon Basin, off-shore Western Australia was drilling ahead in the 12-1/4' hole section at a depth of 2,918 mRT.
Since the 6th July 2015 Progress Report No 1, the 17-1/2' hole section was drilled to a depth of 2,099 mRT where the 13-5/8' casing was run and cemented in place at 2,094 mRT. Blowout Preventer installation and testing was then completed, the casing shoe drilled out and drilling ahead commenced in the 12-1/4' hole section.
The Ocean America semisubmersible drilling rig is being used to drill the well which is targeting a net unrisked prospective resource best estimate of 110mmbbls (gross 220mmbbls)1. Total depth is expected to be reached during early August.
Levitt-1 is designed to test the presence of a working petroleum system generating from the Wigmore sub-basin. The sub-basin contains a significant thickness of Jurassic source rocks of the same age as those known to charge petroleum accumulations elsewhere in the Basin. The well is located to evaluate the deeper North Rankin and the shallower Legendre formations which are expected to receive hydrocarbons migrating from the oil mature source kitchen. A successful result would open up a new exploration play in the Carnarvon Basin.