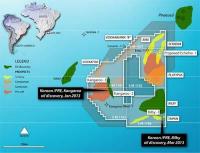 Karoon Gas Australia Ltd spuds the third well in the current Santos Basin drilling campaign, the Echidna-1 exploration well, at 1500 hrs BRT on 31 March 2015.
The top of the reservoir section is expected to be penetrated within approximately 3 weeks with the well reaching a planned total depth of 2,400mRT during April 2015.
The Echidna Prospect is located in exploration block S-M-1102, approximately 20 kilometres north- east of Kangaroo on the eastern flank of a salt diapir in a similar geological setting to the Kangaroo oil field.
The 3D seismic at Echidna shows excellent seismic anomalies similar to those seen in Kangaroo-2 where in some reservoirs the oil water contact (flat spot) has been imaged, boosting confidence in the presence of oil.