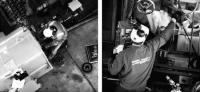 Karsten Moholt AS has signed a deal with technology giant Siemens. Western company to perform overhaul, repair and warranty work on Siemens motors and generators.
Karsten Moholt strives to be the world leader in electromechanical industry. A sustained focus on developing new solutions for effective maintenance has proven to be a winning strategy for the company from Bergen. They have now signed a new contract with Siemens.
Karsten Moholt AS is grateful for the trust Siemens shows us with this Agreement. We strive to provide world-class services , and for us , the agreement is a confirmation of this work. The agreement will also provide a significant sales , says vice president Arne Hammer in Karsten Moholt AS.

We have chosen to enter into agreement with Karsten Moholt because of their solid expertise in the industry, offshore and marine, in addition, they have very good response , says Roar Søvik , Sales Director at Siemens Drive Technology .