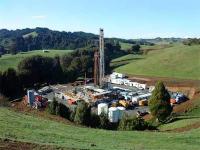 Kea Petroleum has shut in production at its Puka site in Taranaki.
Over the last few weeks, Kea has been working hard to resolve mechanical problems with the Puka-1 well, while continuing to produce from Puka-2. Unfortunately the problem cannot be resolved with the equipment currently available.
An alternative longer term plan is under consideration however given the current oil pricing environment, the Board has decided that the site is shut in until the economics of continued site operations improve.