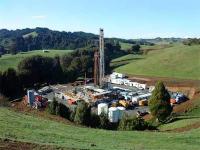 Kea Petroleum has signed Heads of Agreement (HoA) with an oil and gas company quoted on the Australian Stock Exchange in connection with the further appraisal and farm-out of PEP 51153, including the Puka discovery.
The Directors are pleased to advise that the non-binding HoA, subject to closing, will result in a staged farm-out of an interest in PEP 51153. Kea has entered into an exclusive period of final due diligence and transaction documentation with a view to completing and announcing full details of a transaction in early 2014.
The HoA envisages a staged farm-out whereby Kea will be funded through an appraisal of Puka with one firm well and up to three further wells, fully funded by Kea's partner, subject to appropriate cost caps to ensure a disciplined appraisal approach.