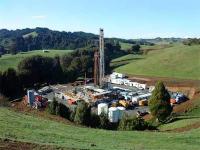 Kea Petroleum is launching a review of the strategic options open to the Company with the intention of considering all opportunities for maximizing value for shareholders. Accordingly, the Company is undertaking a careful evaluation of its business plan, operational assets, development strategy, market valuation of assets and capital structure.
On Jan. 14, the Company announced that, as a result of the current oil price and a mechanical problem, it had shut in production at its Puka site. It also announced that it continues in discussions with potential farm-in partners for its Mercury, Mauku and Shannon prospects.
At the time of the publication of the Company's final results the Directors stated the Company was in discussions to secure additional funding to cover an expected funding shortfall in 2015. To date the Company has not entered into any funding agreements but discussions continue.