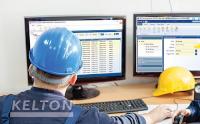 Kelton Engineering Ltd, an oil and gas flow measurement consultancy service and software provider, has recently launched a new, innovative software application. The new application called UNCERTAINTYLIVE™.net ensures the uncertainty calculated is dynamically updated to match your process conditions and composition.
When measuring oil and gas there are many designs and configurations which can be used and the uncertainty measurement will depend on factors such as the type of meter used, standards applied and the make, model and the range of primary and secondary instrumentation. UNCERTAINTYLIVE™.net makes the process of uncertainty measurement so much simpler.
Mark Hay, Operations Manager – Software Applications, KELTON® comments, "Demonstrating uncertainty is an operational requirement, and as such an important factor, for all oil and gas operators. We felt that with KELTON®'s 20 years' experience in evaluating uncertainty in measurement systems we were ideally qualified to design a unique software application to simplify the process for our customers."
UNCERTAINTYLIVE™.net is delivered as a FM²P®.net application which allows process data to be read via OPC and results to be stored securely in a database with visibility across an organisation. Uncertainty calculations can either be run at a user defined frequency or triggered based on an event or parameter value changing.