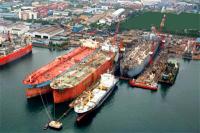 Keppel Corporation Limited says that Keppel FELS Limited (Keppel FELS), a wholly owned subsidiary of its unit Keppel Offshore & Marine Ltd. (Keppel O&M), has delivered a KFELS B Class jackup to Mexican national oil company, Petroleos Mexicanos (PEMEX), on time.
The rig was named Kukulkan (400' ILC) by Lady Sponsor Mrs Valerie Pahl-Hernandez, wife of Gustavo Hernandez Garcia, director general of PEMEX Exploration & Production, at a ceremony at Keppel FELS this evening. Kukulkan is the second jackup Keppel has built directly for PEMEX.
It will join sister rig, Yunuen (400' ILC), which was delivered earlier this year, and another nine jackups that PEMEX has chartered from drilling contractors for deployment in offshore Mexico. Keppel also has another seven KFELS B Class jackups currently under construction for Mexican companies.