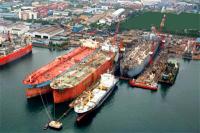 Keppel Offshore & Marine (Keppel O&M) has through its wholly owned subsidiary, Keppel Offshore & Marine USA, Inc., entered into a Stock and Asset Purchase Agreement with Cameron International Corporation (Cameron), to acquire Cameron's offshore rigs business, which comprises the LETOURNEAUTM jackup rig designs, rig kit business, and aftermarket services for US$100 million.
The LETOURNEAUTM suite of jackup rig designs are established designs that have been popular with certain market segments and have a proven track record of operating in a variety of environments.
The designs Keppel is acquiring, which include the LETOURNEAUTM Super 116E, WORKHORSE, Super Gorilla XL and Jaguar, will add to Keppel's offerings in the jackup rig market.
With the acquisition, Keppel will be able to offer customers the LETOURNEAUTM rig designs through the sale of rig kits to shipyards, or deliver ready-to-drill rig solutions from Keppel yards worldwide. The rig kits include jackup leg components, elevating units/jacking system and cantilever/skidding system. Support equipment such as cranes and anchor winches are also options in the rig kits.
Another aspect of the business is the provision of aftermarket services. With about 100 LETOURNEAUTM rigs currently operating around the world, many operators require servicing and repair of their rigs. Keppel will be able to leverage its network of yards worldwide to better meet these customers' needs. Besides repairs, upgrades and modifications, jackups are required to undergo five-year Class recertification special periodic surveys.