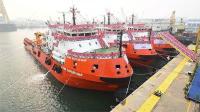 Keppel Singmarine Pte Ltd (Keppel Singmarine), a wholly-owned subsidiary of Keppel Offshore & Marine Ltd (Keppel O&M), is on track to deliver three ice-class vessels on schedule and with a perfect safety record to Bumi Armada Offshore Holdings Limited - a subsidiary of Bumi Armada Berhad (Bumi Armada) in September.
The vessels -- two supply vessels and one multi-purpose duty-rescue vessel -- were named Bumi Uray, Bumi Pokachi & Bumi Naryan-Mar respectively in a ceremony at Keppel Singmarine Sept. 10. When delivered, these vessels will support offshore platforms at the Filanovsky oil field in the northern part of the Caspian Sea, off the coast of Russia, providing year-round services such as the delivery of cargoes, salvage, search and rescue functions, fire-fighting operations, and towing and tanker mooring operations.
Michael Chia, managing director (Marine & Technology), Keppel O&M, said, "We are pleased to once again support Bumi Armada with three highly sophisticated vessels. We were able to leverage our expertise in ice-class technology and in-depth knowledge of the Caspian region to customize these three high specification ice-class vessels to suit their needs. We are confident that they will be a success in the harsh environments of the Caspian Sea.